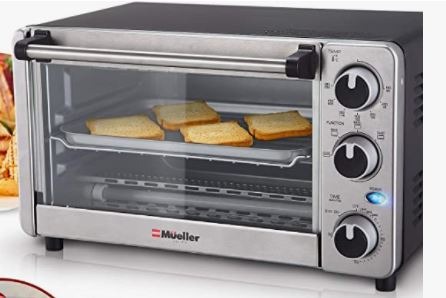 Toaster ovens are quickly becoming the go-to kitchen appliance. They're handy for reheating leftovers and toasting bread, but they can also bake broil and roast foods. The Mueller Toaster Oven is a 4-slice toaster oven that's big enough for a 9" pizza and toasting 4 slices of toast.
In this Mueller Toaster Oven review, we'll take a look at a few important features of the Mueller oven that may help you decide if it's worth buying.
Mueller Toaster Oven Mt-175 Review
Main Features
It is multifunction; can bake, broil, toast, and reheat food
Toast 4 pieces of bread
The brand is Mueller Austria
Comes with 1,100 watts of power
Made of stainless steel
Comes with Baking Pan and Rack
Has a wide temperature range of 150 to 450 degrees F
Has a 30 min timer
Before I start my Mueller Toaster Oven 4 Slice review, let me tell you a little bit about my experience with toaster ovens in general.
I have gone through countless toaster ovens in the past. Mostly because they would break or stop working after only a few months of using them.
So, I decided that it was time for a change, and I began looking for a toaster oven that would last longer than the others. After a lot of research, I settled on the Mueller 4 slice stainless steel toaster oven.
Here is what I found after using it for several months.
It is Multifunction
The Mueller toaster oven is a four-slice toaster that can handle some of the most demanding needs of the user. You can use this one to bake, toast, and broil, so you get the best out of your money.
Baking
Baking is the simple process of cooking food in an oven with dry heat. Use this home kitchen appliance to bake a wide range of foods, including cake, bread, and other dough products.
This 4 slice toaster oven is great for making pizzas, quesadillas, chicken wings, cookies, frozen foods, and more. You can use it to make extra-crispy chicken wings or extra-cheesy pizza. If you have a large family, this compact toaster oven can also be used as a countertop convection oven to cook larger meals.
Mueller Toaster Oven, MT-175 comes with a timer that automatically shuts down once the cooking time is over so that you don't have to worry about switching off the oven after you are done cooking or baking your food.
Toasting
The first thing I made with my new oven was toast. The Mueller Austria 4 slice toaster oven came out perfectly golden brown without getting burned on top at all. Use it to toast your bread right in the comfort of your home. It has a large capacity, so it can fit 4 slices of bread.
Next, I made chicken nuggets (which is something I do often) and they came out so crispy. Another thing that really impressed me was just how fast this oven cooks. My food cooked twice as fast as it did in my old oven so it's really convenient.
Has a Transparent Door
One of my favorite features of this Mueller Austria toaster oven 4 slice is the transparent door. It allows me to watch my food cook without having to open the door and let heat escape.
This feature also allows me to easily tell when something is done cooking so that I don't have to waste time opening the door just to check it out periodically.
Dual Position Rack
This Mueller Austria toaster oven 4 slices comes with two rack positions and a baking pan so you can cook many different dishes at once. It has a temperature selector knob so you can set it for just about anything from 250°F up to 450°F. The 30-minute timer has an automatic shut-off and stay-on feature for added convenience.
It Saves Space in Your Kitchen
The Mueller Toaster Oven is a great option for anyone who doesn't have the space or budget to purchase a traditional oven. Its small size, however, makes it able to easily fit on any kitchen countertop.
Mueller Austria Brand
Who is Mueller Austria? Mueller Austria is one of the most trusted brands for kitchen gadgets in the world.
Originally founded as Mueller Stoveworks in Germany, the company has been in the cookware business for almost 100 years.
In 2001, Mueller Austria was established in North America by the Mueller family with a mission to bring the finest European kitchen appliances to American households. Since then, they have grown their product line and expanded into other categories.
Mueller Toaster Oven Dimensions
Dimensions: 16" W x 14" D x 10" H
Weight: 11 lbs
Capacity: Fits 4 slices of bread or 9-inch pizza
Settings: Toast, Bake, Reheat, Broil
Pros
You will love the versatility of this toaster oven. Use it for baking pizza, broiling a side dish, keeping an already cooked dish warm, or toast bread
It comes with a stainless steel finish that makes it a modern addition to your kitchen.
Another impressive feature that you will like is the special heating elements that are designed to help in even heat distribution while reducing hot spots.
The glass door of this Mueller Austria toaster oven 4 slice allows you to check on your food without opening it up and thus lose heat that could affect your cooking time.
The crumb tray is also removable so you can have an easy time cleaning up.
The 1100 watts power capacity ensures that you do not spend all day in the kitchen preparing meals for your family or guests as it cooks food faster
The inside is spacious enough for four slices of bread or a 9" pizza. You can even prepare different foods at once to save time
The Mueller Toaster Oven is relatively small, so it won't take up too much counter space in your kitchen. It's also lightweight, which makes it easy to move around if needed
Cons
FAQ
Can You Mount a Toaster Oven?
Yes, you can mount a toaster oven. You may have seen under-cabinet toaster ovens in kitchens. They're an alternative to countertop toaster ovens, freeing up space on the countertop. A wall-mounted toaster oven also helps keep spills and crumbs off the countertop.
However, you can't just mount any toaster oven under your cabinets. Here are some things you need to understand before you consider getting one.
Check the Manufacturer's Manual
The first thing you'll want to do is check your specific toaster oven manual for information about mounting the appliance. Some manufacturers provide brackets or other equipment specifically for this purpose and have instructions on how to install it yourself.
If that's the case, you might be able to do it without any special tools or skills. Some models don't come with anything but may still give instructions on how to do it yourself.
Can't Find Anything in Your Manual?
If your manual doesn't mention anything about mounting it under a cabinet, contact the manufacturer and ask if it's possible.
In some cases, this isn't something that is recommended at all since doing so could void the warranty or cause additional problems with the machine itself. It could even be a fire hazard if done wrongly.
Is Convection Worth It in A Toaster Oven?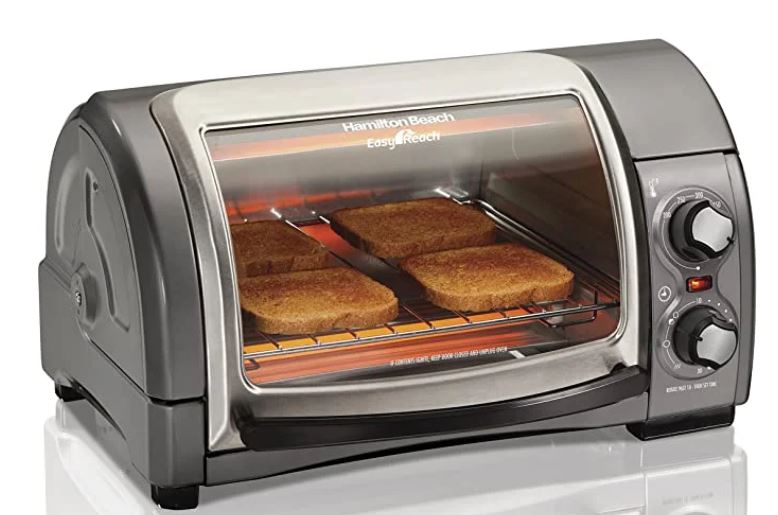 The short answer is yes. But that's not the whole story.
Toaster ovens are a great appliance for heating up leftovers, toasting bread, baking cookies, or making snacks for one or two people. Toaster ovens come in all shapes and sizes, with some of the largest ones being able to roast a whole chicken.
Many toaster ovens now have convection-cooking capabilities. Convection toaster ovens use a fan to circulate air around food while it cooks. This speeds up cooking time and helps brown food more evenly, compared to traditional radiant heat sources.
A Convection Setting is Worth
A convection setting is also useful when you're cooking multiple pans of food at once (like when making multiple trays of cookies), or if you want to cook something on a low rack without burning the bottom. You don't have to worry about rotating pans or moving them around in the oven as much, since the hot air circulates around them more efficiently.
Convection has its drawbacks too. A lot of people struggle with overcooking their food in convection mode especially cookies and other baked goods. It takes some practice to figure out how much power and timing adjustments you need to make for your favorite recipes when using convection, so don't be discouraged.
What Is the Best Convection Toaster Oven On the Market?
I recommend the Mueller Austria Toaster Oven. It actually functions as a convection oven. I use it to make pizza, cookies, and other baked goods. It also has a broiler function. As far as being a toaster oven, you can put in 4 pieces of bread horizontally or 2-3 vertically (depending on their sizes).
This is great if you want to toast something like two English muffins or bagels at the same time. The crumb tray is also large and easily accessible. You can clean it out with just one swipe of your hand.