A cast iron fire pit is a lovely addition to a garden plus they make lovely gifts for your family or friends. They are also perfect for warming evening and nights.
They come in all shapes and styles to match your home budget and taste.
There are various types of cast iron firepits and they include:
Heavy duty cast iron fire pit
Antique cast iron firepit
Cast iron fire pit with chimney
Cast iron fire pit with grill
If you want to know more about these home backyard structures read this article to learn their features, benefits and many more.
What is a Cast iron Firepit?
This is a type of fire pit that is made of cast iron. It must be constructed with materials that will withstand high temperature of fire. Cast iron is one of them.
Cast iron makes a good fire pit because it is heavy and strong. It will be safe to use since it is not easy to knock over. Sturdy fixtures are also known to last for a long time.
They also offer other handful of advantages as compared to their counterparts that are made of other materials.
They offer great warmth as they are efficient at spreading heat. They are attractive, and instead of rusting like other metals, they just oxidizes changing color from grey to a natural reddish color, if exposed to moisture.
Avoid moisture or rain water because they to discolor easily when exposed to these elements. The best way to protect your fire pit from rain water is by using a cover. A cover will keep it dry and clean.
Cast iron pit is a bit heavier so I would advise to choose the best place to place one to minimize movement.
If you are looking to invest in a good fixture for your fire, cast iron will make a good option.
Types of Cast Iron Fire pit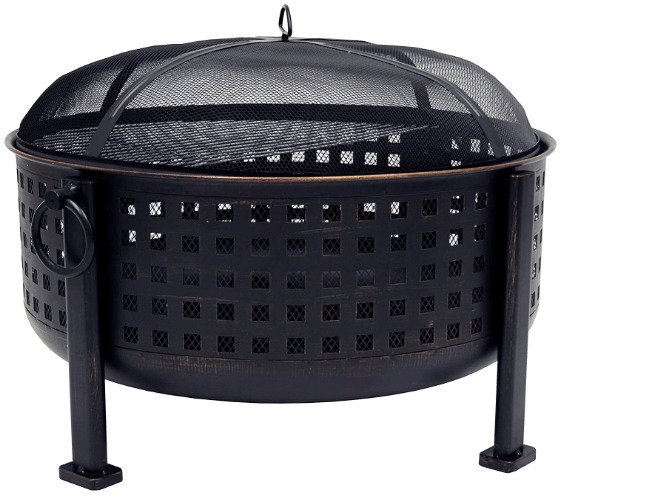 1. Cast iron fire pit grill
No home backyard is complete without a firepit grill to barbecue your favorite food. It will create a perfect gathering spot for your family and friends. If you are looking for a firepit with a grill, buy this one.
Main features
Comes with a cooking grid for BBQ'ing
Has a large capacity bowl to accommodate lots of firewood at ago
Comes with a cover to protect firepit when not in use
Designed to be used with wood
It is designed with circular system to encourage air flow for more clean and consistent fire
Has a mesh cover to reduce escaping sparks
Ready to grill-Fire pit grill combo for sale
If you are looking to grill food, buy this firepit. Use the grid provided to barbecue your favorite food such as season steak, corn on the cob, marinated chicken, salmon, hot dogs, just to name a few.
Alternatively, you can place a pan over the grill to fry seafood, veggies, chicken breast, game birds and many more.
Drain Holes
It is designed with holes to drain water thus preventing rusting. Water can collect in case of rain but do not worry because this pit is made holes to prevent water build up.
Consistent and Clean fire
If you are looking for a fire pit that will deliver a big roaring fire, buy this one. It comes with a circular system to let in more air in the fire bowl thus contributing to consistent and clean fire.
It also comes with a deep bowl to accommodate big and lots of wood when in use.
Mesh Cover
A mesh cover is an important accessory of a fire pit. No need to buy an extra mesh cover since this one already comes with one. The accessory prevents fly away sparks that can be dangerous if they fly away.
Pleasant Hearth
Pleasant hearth is one of the leading brands that designs fire pits, wood and pellet stoves, fireplace accessories to be used at home or camp sites. The products undergo rigorous testing to make sure they are of high quality and will not pose any danger to their users.
2. Heavy duty cast iron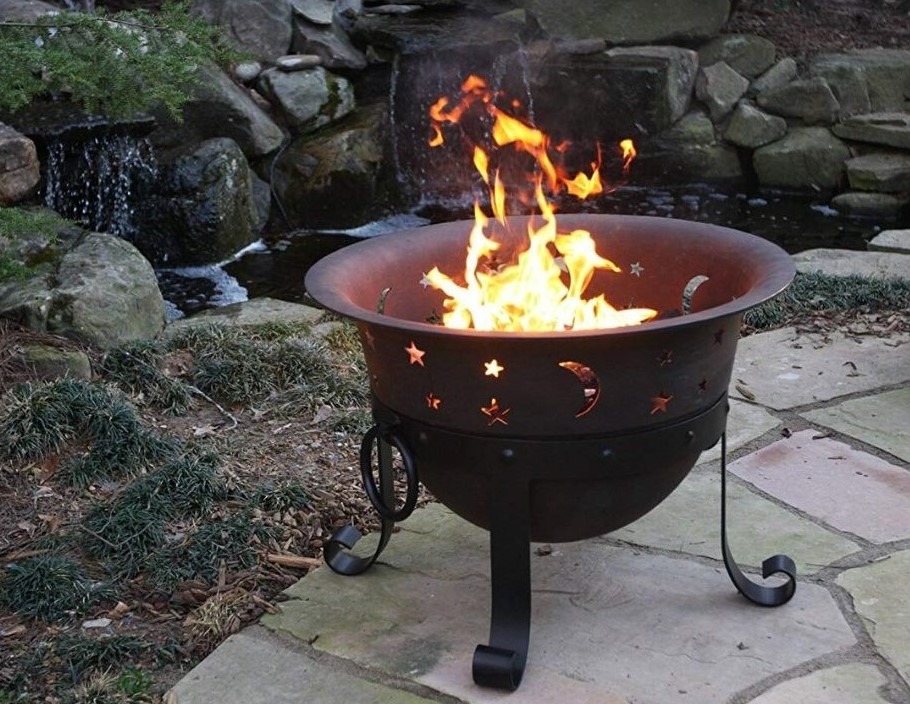 A cast iron fire pit with grill can cook. If you are a foodie like me, this combo will conjure images of herbed prime rib, roasted chicken, BBQ pulled pork, grilled salmon, pork chops, smoked turkey and many more.
It will be suited for most backyard, courtyards, patios and decks.
Best Cast iron fire pit grill to Buy
This is one of the best cast outdoor fire pit that you can buy. It comes with all the accessories needed. Its main features include the following:
It comes with a spark screen
Has a safety poker
It uses wood
Comes with a weather resistant cover
It features moon and star cut outs to enhance combustion of wood
Has a log screen lifting tool plus log grate
It is made of heavy duty cast iron
Comes with a protective outdoor cover
It is stylish hence will complement your patio or deck decor
This is a pocket friendly outdoor fire pit. It is worth investing in since it is specially designed to last and offer quality service. It will allow you to enjoy a cozy campfire in your backyard roasting marshmallows, etc.
Your home is not complete without this backyard fixture.
Spark screen
It comes with a spark screen to eliminate fire hazards or prevent sparks flying.
Design
It is designed with moon and star cutouts to complement your patio décor. It also features an elegantly rounded bowl.
It comes with a deep bowl to accommodate large woods. It also comes with 4 sturdy legs and heavy duty cast iron design to make it a long lasting outdoor solution for a long time.
Ultimate firepit Buying Guide
Fire pits tips that you will find helpful
Avoid using your fire pit when it is windy since flames can spread to nearby trees
Make sure you maintain a proper distance when using it. Keep an eye on your children and pets.
Use only dry hardwoods for clean flames. Wet wood produce a lot of smoke
When not in use, use a cover to keep it clean and dry. Moisture and water facilitates rusting
Let fire die down naturally. I would not advice to use water to put your fire off since will stress the hot metal of the fire pit.
Keep a fire extinguisher with you always or a bucket with sand in case the fire gets out of hand. If you the fire spreads to nearby bushes or trees, call 911 immediately.
When in use, monitor it always. Do not leave it unattended. It only takes a second for a fire to burst into a blazing inferno.
Make sure there are no nearby bushes, trees or anything that can catch fire. Choose a perfect spot for your backyard fixture and make sure it is 10 to 20 feet away from nearby plants, your home or even buildings.
Try to have built in seating to avoid them drawn close to the fire. You can also use heavy ones since they are not easy to move or tumble over.
Never use gasoline or lighter fluid to start fire in a firepit.
If it is possible, surround your fire pit with non-combustible materials such as rocks, sand or bricks.
Seasoned woods are safe to use than plywood or composite woods which some tend to produce toxic fumes and even sparks. Always use a screen to prevent sparks from flying away
Wait for the firepit to cool before removing any ash.
Encourage airflow. Encourage airflow by arranging your firefood properly or use one of the fire pits reviewed above that comes with a circular system to let in more air for combustion.
How to buy a Firepit
There are many factors to consider or many features to look for when buying a firepit. Before buying one, learn about the materials that make the best firepit, know where to place it, types of fuel to use, their cost, just to mention a few.
Materials
This is one of the most important feature to look for when buying a fire pit. Is it constructed using cast iron, stone, copper bronze or steel? Every material has its pros and cons.
Steel and cast iron firepits are durable and radiate good amount of heat. It is worth noting that steel is rust free, and is available in various finishes such as brushed and shiny.
Some people would prefer backyard fixtures constructed with stone but these gets broken easily.
Fuel
Before buying a fire pit, know which fuel to use. If you love burning wood and its aroma, then buy a wood burning firepit. If you instead are concerned about air polluting smoke, natural gas or propane will be the best choice for you.
Propane or gas pits do not need a pile of wood and do not produce ash.
Expect to pay installation fees for a gas firepit.
Style
Fire pits are available in different shapes, designs and styles. They also come with standard features such as bowl or a cauldron to hold the wooden logs.
Their bowls vary in depth and width while some may have unique features or cut-outs to promote the flow of air. The cut-outs are made of different shapes and designs which will enhance the beauty of the cast iron fire pit.
Most iron fire pits have three or four legs under the bowl to hold it plus to offer stability while some may only have a base to rest on. Some people consider fire pits with legs to be more stable and beautiful than those without.
Accessories
A spark screen is included when ordering one to keep hot embers from popping or sparking out and landing on where they are not supposed. Other accessories include grill for barbecuing, protective outdoor cover and a screen lifting tool.
Benefits of owning a Cast Iron fire Pit
A perfect place to gather
Everyone loves a cozy fire. Cast iron firepit will provide the perfect place to gather. It will brighten up the atmosphere during night time and even make your home's backyard an attractive place, similar to five star restaurants and hotels.
Different styles and design to choose from
They come in a variety of styles and designs to choose from. Therefore, you are spoilt for choice plus it will be easy to get a fire pit that blends in with your landscape or complements your home backyard décor.
Provide a great place to cook meals
If you love cooking outdoors like me, then buy these backyard fixtures. You can cook or grill any food whenever the mood strikes you. Food to barbecue or cook over a fire include steak, marshmallows, hamburgers, chicken wings or breasts, salmon, pork chops, corn on the cob and many more.
Use the grill provided to cook things or barbecue your favorite food. All your family members and friends will enjoy food cooked over fire because of its aroma.
Strong and durable
Iron is strong, durable, rust-resistant and transfer heat easily. Expect your cast iron fire pit to last for a long time without the need of replacing it. Materials like copper make weak fire pots which may require you to replace them from time to time.
Provide warmth
Sitting around a fire provides warmth especially on chilly nights. Not only will it provide warmth but it will light up your whole garden or backyard. If you are looking for a backyard fixture to promote socialization, buy a pit to put your fire.
It will also help unwind. 1 study found out that fire helps people to be calmer.
Aesthetic Value
There are so many stylish fire pits. This will add aesthetic value to your home. One of the ways of enhancing the look of your home is by adding a fire pit.
References
https://www.weber.com/US/en/blog/grilling-inspiration/our-10-favorite-recipes-for-charcoal-grilling/weber-29858.html