Last Updated on May 17, 2022 by homeguide
Whether it is for a job interview, a formal occasion or just your everyday job, looking your best makes you feel confident and gives off a self-assured aura to other people.
This is where a trouser press or steam press comes into its own.
Trouser Press Review
Corby 7700 3-Cycle Trouser Press with Walnut Finish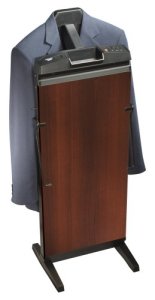 -Flattens wrinkles and keep creases sharp with the best trouser press without dealing with the hassle of an iron
-Choose from 15-minute, 30-minute and 45-minute cycles
-Ideal for everyday pressing of everything from business pants to casual slacks
-LED countdown display and walnut finish
-Can be free-standing or can mount to the wall
Watch this video to see how a trouser press Corby works
Since a trouser press is a fairly standard item, they are all pretty similar. For that reason, we have only decided to review the one which we consider to be the best available at a reasonable price.
Corby trouser presses are undoubtedly the best onesyou can buy and are world-renowned. The Corby 7700 is certainly no different.
With an integrated coat hanger for your blazer and a delightful walnut veneer, this trouser press will leave your suit looking immaculate every morning. 5 stars [star rating="5″] .
Best Trouser Press Functionality
A trouser press (often called a Corby trouser press) has a singular purpose: to press trousers.
While they can theoretically be used to press other garments, the shape and method of pressing are most suited to trousers.
Though not a new innovation, trouser presses have been a fixture in hotel rooms for many years, they were previously expensive.
They work at a relatively low-temperature range so there is no danger of burning the trousers while being pressed but due to this, they also take a relatively long time (15 minutes plus) to remove creases.
Nevertheless, a trouser press is a useful piece of equipment that adds a touch of class to any gentleman's bedroom. The short wait is worth it for the quality result.
Wake up, pop your trousers in the Corby trouser press, go make breakfast, shower and by the time you return you can slip into a warm pair of flawlessly pressed trousers.
A Steam Press
Keeping your clothes in tip-top condition and crease-free in today's vanity conscious society is important for most people.
Smartly pressed, clean clothes say a great deal about the person wearing them.
A home steam iron is a go-to appliance for pressing your clothes and removing creases after washing, but a steam press makes life so much easier.
Now affordable and readily available to buy online or in your local shopping mall.
Conversely, a handheld steam press is a relatively new innovation that is both cheap to buy and simple to use.
A steam press does the work of both an iron and a trouser press but while your clothes are hanging, so no need to waste time folding them.
You can also press curtains and other household linen with a steam press while they are still in place.
What Does a Handheld Steam Press Do?
Steam has many uses, cleaning, cooking, a handheld steam press that works similarly to a steam iron except it removes creases without making contact with the fabric.
Jets of steam are forced through a nozzle onto the cloth which relaxes the fibers and removes the crinkles and creases. A good handheld steam press will be cordless so you can move freely without restrictions.
While a steam press is great for keeping your clothes in top-notch condition, it has other uses.
Sanitation and hygiene are very important around the home and the jets of steam from your steam press can kill bacteria on various household items such as baby toys and kitchen utensils.
You can even use a steam press to kill dust mites and bedbugs.
Best Handheld Steam Press Reviews
Looking for a quality steam press? Look no further. These are the current best handheld steam press appliances available in our humble opinion. As always we rate the appliances using a 5-star rating system.
Sunbeam Handheld Garment & Fabric Press
Fast heat in less than 45 seconds with 15 minutes of continuous steam
Sanitizes and refreshes all types of fabric, linens, and drapery with deep steam penetration to remove odors, plus it can be used on bedding to kill dust mites and bedbugs
Heated wide-press bar presses out tough wrinkles and dries fibers to prevent re-wrinkling with wide steam coverage
Compact stand-up stable design allows steamer to stand on a flat surface and travel with ease
Simply Reliable 3-year limited warranty
Simple but highly effective steam press that has multiple uses around the home but performs it's a primary function – pressing the wrinkles from your clothes and fabrics – impeccably. Great value for money too. 5 stars [star rating="5″].
Rowenta X-Cel Handheld Garment and Fabric Steamer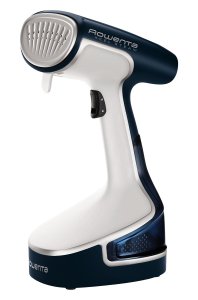 1500 Watts of powerful steam combined with an Extra large micro metal steam head with multiple holes for excellent steam distribution getting out the toughest of wrinkles.
Ready to steam in 45 sec
Flexible storage: Use it Anywhere, Anytime thanks to its robust base and chair hanger.
Removable water tank – 10 minutes of uninterrupted steaming
Accessories: fabric brush, lint pad, steam bonnet.
Power cord length of 3 meters
Rowenta describes their flagship handheld steam press as "the most powerful handheld steamer" and we tend to agree. The X-Cel Steamer is a top-class as you would expect, but just a little too heavy for our liking. 4 Stars [star rating="4″.
Conair Turbo ExtremeSteam Advanced Handheld Fabric Garment Steamer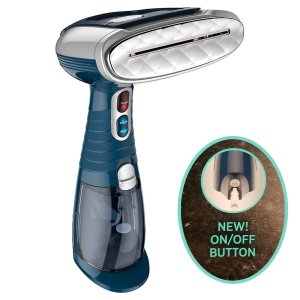 New on/off feature included. It makes steaming even quicker and easier than before.
Advanced steam technology reaches temperatures up to 50% hotter.
Delivers 50% more steam for 67% faster results.
40-Second Heat-Up. 7.3 oz water tank for up to 15 minutes of continuous steam.
3-in-1 Attachment: [Silicone Band] Pulls fabric taut for easier steaming. [Delicate Fabric Spacer] Protects fragile fabric and trims. [Bristle Brush] Loosens fibers to let steam reach deeper.
Quilted aluminum steamer plate performs like iron for a fresh-pressed look.
The Conair Turbo handheld steam press heats up super quick and the amount of steam it produces is extraordinary. Lightweight and very easy to use, it glides over your clothes to release wrinkles and creases impressively. Another 4-star rating [star rating="4″].