Last Updated on August 23, 2023 by homeguide
In this era of DIY and personalization, woodworking has become increasingly popular among home woodworkers especially if they have the right tools like this. So, if you're looking for some inspiration or ideas for your next project, you've come to the right place.
In this article, we'll explore some interesting woodshop ideas or projects that will help you unleash your creativity and take your woodworking skills to the next level.
1. Picture Frames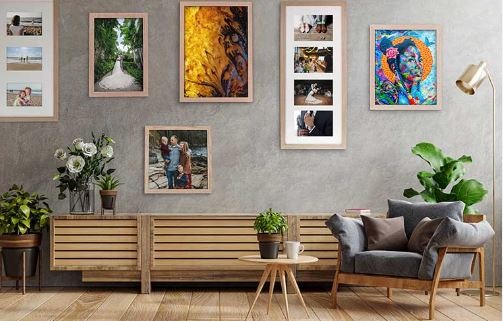 If you're a home woodworker looking for woodshop ideas or projects, picture frames can be a great place to start. Not only are they practical items to make, but they also offer the opportunity to showcase your creativity and woodworking skills.
There are many different styles of picture frames to choose from, including rustic, modern, and traditional.
Experiment with Different Types of Wood
You can experiment with different types of wood and finishes to create unique looks, and even add decorative accents like carved details or metal accents.
With a little practice and some patience, you can create beautiful picture frames that will add a touch of warmth and personality to any room in your home.
2. Shoe Storage Booster Stool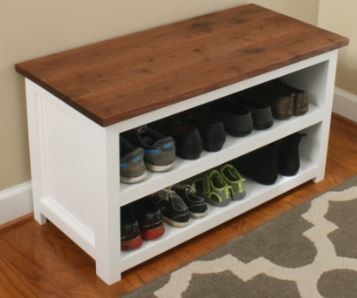 Consider building a shoe storage booster stool if you don't have one. This functional and stylish furniture piece is perfect for small entryways or mudrooms.
With this shoe storage booster stool, you'll have a convenient place to sit while putting on or taking off your shoes and extra storage space for footwear and accessories. Plus, you'll be satisfied creating a helpful piece of furniture using your hands.
3. Behind-The-Door Cabinet for Home Woodworking Projects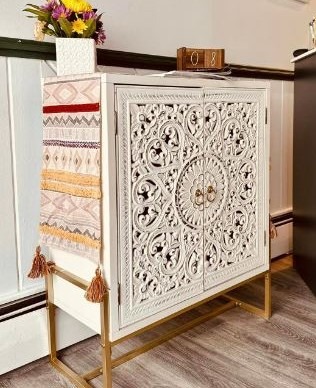 The space behind your door is usually ignored. So, consider building a behind-the-door cabinet to utilize it. Behind the door cabinet is an excellent way to maximize space behind doors. Plus, it is easy to make and can be customized to fit your specific needs.
To get started, you'll need a few tools and materials, such as wood boards, a saw, a drill, screws, and sandpaper. Once you have your supplies, you're good to go.
4. Hottest Selling Woodworking Items-Chopping Boards and Serving Trays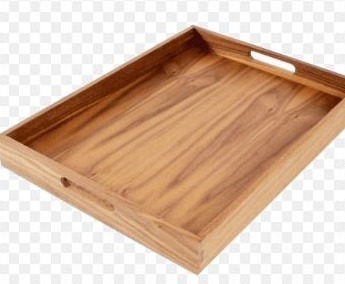 Another practical woodshop idea for home woodworkers is to create a chopping board and serving tray. You can construct these items using different types of wood, such as maple, cherry, or walnut.
These two items are excellent for everyday use in the kitchen or to serve appetizers and drinks during a party. They also make for unique and thoughtful gifts for friends and family.
5. Shoe Organizer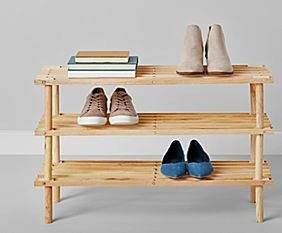 For the home woodworker looking for woodshop ideas or projects, a shoe organizer is a practical and popular choice.
There are many different styles and designs of shoe organizers that can be created, from simple racks to more elaborate cabinets with drawers and compartments.
A Great Project for Beginners and Experienced Woodworkers
A shoe organizer can help keep shoes organized and tidy, and can also serve as a decorative element in a hallway or closet.
With some basic woodworking skills and tools, a home woodworker can easily create a custom shoe organizer that perfectly fits their space and style. It's a great project for both beginners and experienced woodworkers alike.
6. Magazine Storage Containers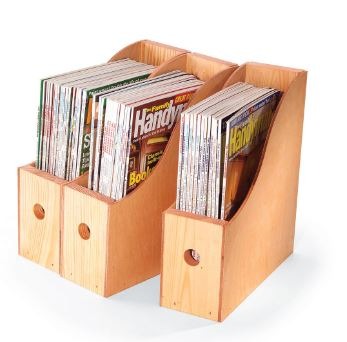 One project that can be both practical and fun is making magazine storage containers. These can be customized to fit your personal style and are a great way to organize your reading materials.
7. Sleek and Simple Coat and Hat Rack
A coat and hat rack is a functional and practical addition to any home, providing a designated spot for visitors to hang their outerwear.
The sleek and simple design ensures that the rack will fit seamlessly into any décor style, while the natural wood finish provides a warm and inviting feel.
8. Hottest Selling Woodworking Items-Swedish Boot Scrapers
Another project that can be useful around the home is a Swedish boot scraper. This simple but effective design is perfect for removing mud and dirt from boots before entering the house.
9. A Simple Step Wood Stool for Home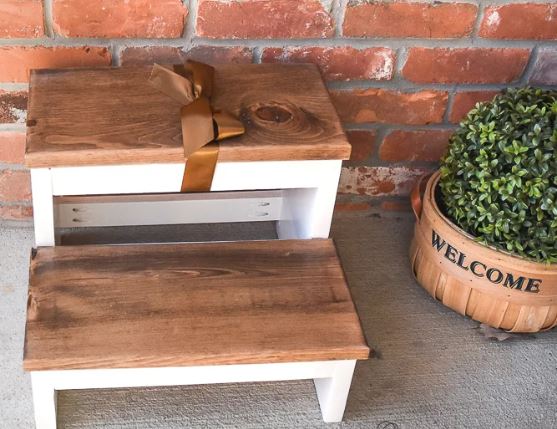 Woodshop ideas like this not only provide a practical solution for reaching high places in the home but also a beautiful piece of furniture that can be cherished for years to come.
This project can be completed in a few hours, making it perfect for those with limited time to devote to woodworking. You can customize the step stool with different finishes to match any home decor style.
10. Easy Knife Block
You can create a custom knife block that will keep your knives organized and easily accessible in the kitchen. There are many variations and designs to choose from, such as a classic block with slots for multiple knives or a modern magnetic strip design.
Plus, making your own knife block allows you to customize the size and shape to fit your specific needs. With this project, you'll have a useful and stylish addition to your kitchen that you can be proud of.
11. Tree Branch Shelf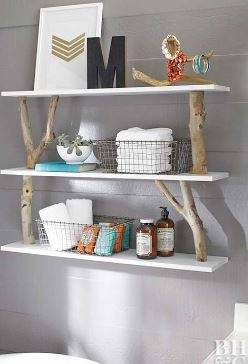 This unique piece of furniture adds a touch of nature to any room and is a great way to upcycle fallen tree branches.
Once you assemble the tree branch shelf, you can add a finish or leave it natural to showcase the beauty of the wood. Use the shelf to display books, plants, or other decorative items in your home.
12. Home Backyard Lounger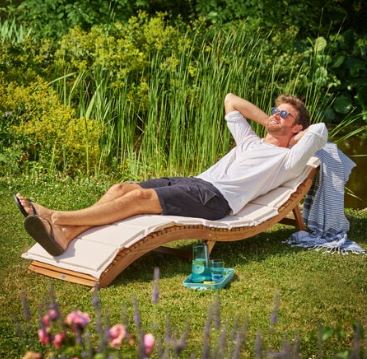 One of the best ways to relax in your backyard is by lounging on a comfortable chair or chaise lounge. And what better way to create the perfect backyard lounger than by making it yourself in your home woodshop?
Once you have constructed your backyard lounger, add comfortable cushions or a mattress topper.
With your DIY backyard lounger, you can soak up the sun and enjoy the great outdoors in comfort and style.
13. Wood Wagon for Home Woodworking Projects
Another great project for the home woodworker is a wood wagon. A wood wagon can be used for decoration, gardening, or even as a planter.
This project requires some more advanced woodworking skills but can be a rewarding challenge for any woodworker looking to improve their skills.
14. Redwood Planter Box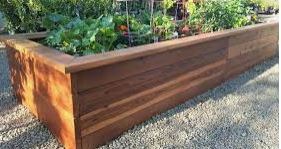 A redwood planter box is a great project idea if you have a garden and want to plant some crops.
These boxes can add a touch of natural beauty to any outdoor space and can be customized to fit any size or shape. Redwood is a durable and attractive wood that is perfect for withstanding the elements, making it a great choice for planter boxes.
15. A-Frame Toolbox
The A-frame toolbox is a classic woodworking project that's functional and stylish. This sturdy and versatile toolbox features a rectangular shape with ample storage space for all your tools and accessories.
With its simple design and basic construction techniques, it's a perfect project for beginner woodworkers looking to improve their skills. You can customize your toolbox with different finishes to make it unique.
16. A Kitchen Table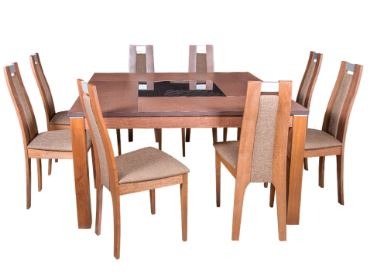 One project that can be both challenging and rewarding is building a kitchen table. A kitchen table is a central piece of furniture in any home and will serve as a gathering place for family and friends plus provide a place to eat meals.
There are many styles and designs to choose from, ranging from modern to rustic. By using quality materials and paying attention to detail, a home woodworker can create a unique and durable kitchen table that will be cherished for years to come.
17. Hottest Selling Woodworking Items-Floating Shelves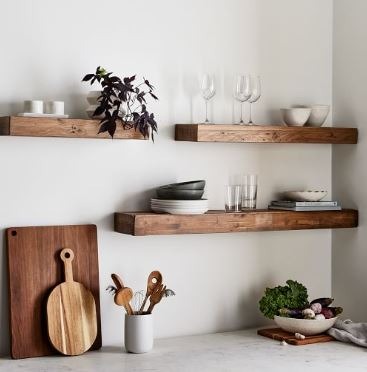 Consider floating shelves as they make great and artistic home woodworking projects. They are easy to build and can be made using various materials, such as reclaimed wood or live-edge slabs.
Floating shelves can be used for displaying decorative items, holding books, or storing everyday items. With some creativity, you can create a beautiful and functional addition to your home with floating shelves.
18. Wooden Bench for Home Woodworking Projects
You can make endless variations of benches, from simple and rustic to sleek and modern. A basic wooden bench can be constructed using just a few pieces of lumber and basic tools, making it a great project for novice woodworkers.
A more advanced woodworker can add intricate details and decorative touches, such as carved designs or turned legs.
19. Hottest Selling Woodworking Items-Candle Holders
A Candle holder is a decorative item used for holding candles. It comes in different shapes and sizes, from simple designs to intricate ones that serve as works of art. The primary function of a candle holder is to support the candle and protect the surface underneath from wax drippings.
Can be Placed Anywhere in a Home
Candle holders can be made of different materials, such as metal, glass, ceramic, or wood, and can be placed anywhere in the house, such as the dining table, mantelpiece, or bedroom.
They create an ambiance of warmth and comfort, providing a soft glow that adds to the mood and atmosphere of a room. The function of a candle holder is not just functional but also aesthetic, enhancing the decor and style of the house.
When designing your candle holder, consider the size of the candles you want to use, the materials you want to use, and the style of your home.
20. A Spice Rack
This is another project to consider for the home woodworker starting out. A Spice Rack is a kitchen accessory used for storing and organizing spices and herbs.
It is designed to make it easy to access and use different spices while cooking. A typical spice rack has multiple tiers or shelves, with each shelf containing a set of containers for holding individual spices.
The containers are usually labeled to help the user quickly identify the spice they need. Some spice racks also have built-in measuring spoons or shakers that allow the user to sprinkle the desired amount of spice over their food.
When designing your spice rack, keep in mind the height and depth of your spice containers to ensure they fit comfortably on the shelves.
Conclusion
Woodworking is a rewarding and fulfilling hobby for those who enjoy creating their own things. With the right tools and a little patience, anyone can create beautiful and functional pieces or home woodworking projects.
From simple projects like a wooden cutting board to more complex ones like a custom bookshelf, there are countless ideas and projects to choose from.