Last Updated on July 4, 2021 by homeguide
When it comes to purchasing a fire pit, there is a dizzying array of options to choose from. Whether you're buying a ready-made one or having a tailor-made for your space, it can be hard to know where to start.
Before you buy your ideal fire pit, consider your needs, style, budget, and even the location that you want to place it. I have included advice from other home experts and professionals in this guide. Here are wood-burning firepits if you are interested in one.
Before I discuss what to look for when buying one, check out this outland firepit. It will look great in your backyard plus it could be what you are looking for.
Outland Firebowl Mega Propane Fire Pit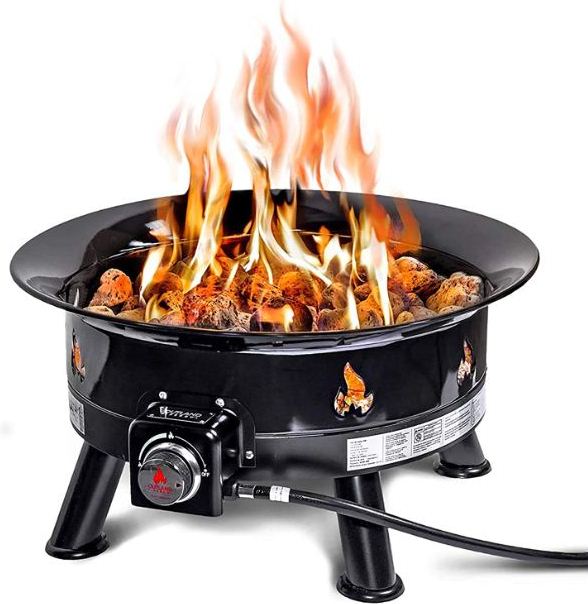 | | |
| --- | --- |
| Main Features | Produces clean and smokeless flame |
| | Brand is outland Living |
| | No assembly required and is portable |
| | It is spark free |
| | Comes complete |
| | Has a durable high quality steel construction |
Propane gas fire pit
If you are looking for a firepit that produces smokeless and clean flame, choose Outland Firebowl Mega Propane Fire Pit. This makes it perfect for camping trips, tailgating get togethers, family evenings, RV travels and backyard patio as it is also weather resistant and durable.
Also, it is ideal for people that do not want their hair and clothes smell smoke for hours after.
It is a popular fire pit choice for many home owners. With a propane firepit, no more dealing with ash, smoke and expensive firewood. It is more environmental friendly, quick to light unlike wood burning ones, runs continuously and has fewer fire hazards.
High-quality Steel Construction
Not all backyard fixtures are made equal. Some are made to last like this outland firepit. It is constructed using high-quality steel which we all know is durable and rain and rust resistant.
If you are looking for something low maintenance, consider this one as it is easy to clean too.
Add fun and relaxing element to your Home Patio
Just envision sitting on your backyard without fire – quite boring, is it? You will lose interest and go away. This outland mega fire bowl will add a relaxing and fun element, trigger discussion with your friends or family, and can be absorbing and soothing as you gaze at it for some time.
It is also perfect for chilly weather.
Complete Kit
You will get a firepit with a pre-attached 10 Ft hose to connect to your tank, and adjustable regulator with valve knob. Lava rocks are also included plus a weather resistant cover.
The hose is long so as to keep your tank cylinder in a safe distance.
Pros of Outland Fire pit
It is affordable
It produces a clean and smokeless flame
It is made of high-quality materials
It comes as complete
No assembly is required
It is environment friendly
It is easy to clean and maintain
Cons
Here's what to look out for when choosing the best fire pit
1. Materials
Maybe a crucial element when selecting your ideal fire pit is the material. Not only do the materials equate to durability, but they also produce a particular style.
Copper
As far as fire pits are concerned, copper is the cream of the crop. They'll not rust – in fact; many copper ones develop a suitable patina over the years. Ultimately, copper can be made into any shape and practically lasts forever. Products made of copper tend to be costly, but the price is worth it in the long run.
Is Copper good for a fire pit?
Yes, it is. It is a great material for a firepit as it does not rust or corrode. It is also famously durable and conducts heat very well. It also looks great hence will complement your home décor.
The golden copper color is attractive when you compare to dull color of cast iron fire pits. You can get a hammered copper fire pit or cobraco copper fire pit which look very great and will certainly be loved by fashion and beauty conscious.
A copper firepit is also durable or long lasting. They rarely break under intense heat since they have high melting point. It is ideal for your backyard space as it also conducts heat very well.
If you are planning to cook with a copper firepit, make sure it has grill so you can place food on top of it.
Do copper fire pits last?
If you are asking yourself this question, you have come to the right place. Yes, copper fire pits last longer and do not thin easily even after repeat usage or expose to thousands of hot fires.
a. Steel
Steel fire pits comprise a wide array of designs that differ in cost and quality. It's an excellent material as it can be molded into any shape you can envision. Be cautious as steel that isn't protected can oxidize over time.
Therefore, ensure that you purchase powder-coated steel and be wary of the physical changes that your fire pit may withstand. High-end designs are typically handcrafted by a steel craftsman and are unique. Cheaper models come in numerous styles and sizes.
Stainless Steel firepits
Stainless steel fire pits are rust-free, long-lasting and looks great for a long time. Most people like the industrial appearance of stainless steel and its performance.
Regrettably, fire pits made of stainless steel are scarce and are only available in a few styles because they're costly.
b. Tile and Stone
Typically, tile and stone fire pits are aesthetically-pleasing. They usually use wood. The base need to be solid concrete and are usually cheaper to construct if you know how to do it.
They however take time to construct, require high maintenance and generally, they are heavy and, therefore, moving them isn't recommended.
c. Cast Iron
In building, one of the most common materials used is cast iron, and fire pits are no exception. Cast iron is cheap, sufficiently light to move around if needed, and easy to work with. It's not as strong and hefty as wrought iron, but for some, its lightweight nature makes it ideal for making a firepit.
Cast iron fire pit
Many portable firepits are made of cast iron. Therefore, a cast one outdoor fire pit is light weight making it easy to move from one place to the other. Also, these type of fire pits ages better and usually comes in great designs since the material is easy to work with.
2. Size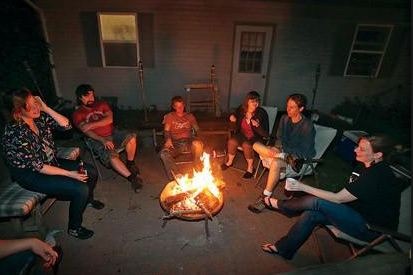 One crucial factor to consider when purchasing a fire pit is size. Check the dimensions in advance and compare them with the room in which you plan to place it.
If it is heavy, make a decision where you'll put it because it'll be hard to move it around.
Its style depends on what you may want to use it for. If you're looking for usefulness, select a table fire pit since you will be able to place your food and drinks. If you have a clear idea of what to expect from your fire pit, you won't purchase something that's inappropriate.
3. Brand
There are brand names of fire pits that are popular and are associated with high-quality backyard fixtures.
They include SunnyDaze décor, Well-Travelled living and Outland living. Outland fire pits are some of the best on the market right now plus other accessories such as spark screen covers, log racks, just to mention a few.
4. Firepit Use
Like I have mentioned before, you need to know what you will use your firepit for before buying one. Do you want it to provide warmth, decorate your backyard or use it to cook food?
Cast iron fire pit with grill
If you want to use your cast iron fire pit to cook food, make sure it comes with a grill. A backyard fixture that can double as a grill is crucial. Also, food cooked on open flame is delicious.
Complement your décor
Some firepits are incredibly stylish which will complement your backyard décor. If you are looking for one that will add beauty to your patio or backyard, choose a fire pit with a great design.
Firepit Table
A fire pit table is handy because you can place food or drinks around it. They have a table-like rim which can hold food that you are cooking and even beverage.
5. Ignition
If you prefer going outdoors and simply turning on a switch to ignite your fire pit, then purchase one that use propane.
Fire pits that use wood takes some time and effort to ignite them. If you'd like something that is easy to light, then go for the ones that use gas.
6. Fuel
Wood and gas are the fuel used by most fire pits. Wood burning ones have their own advantages as well as gas firepits.
Wood-Burning firepit
Wood burning firepit are budget friendly since they are readily available and require the use of dry wood. They are also available in various shapes and sizes and are larger than gas fire pits.
If you love the sound of a crackling fire, the smell of smoke that will linger on your clothes for some time, you will love this type. I would recommend using a spark shield to contain sparks that might be emitted by your firepit.
Some of them are lighter making them more ideal for camping, etc.
Propane or Natural gas Firepits
These are generally neater hence can be used on open porches with roofs. They do not produce smoke or ash hence nothing to clean afterwards. Also, you will have instant flame with no effort since they are easy to light.
They are popular, will keep you warm in your garden, and will add some glamor in your home garden.
The fire is usually powered through gas which you just switch on and off easily. There is also a gas tank which you will need to top up before entertaining your guests with your firepit.
7. Portable or Permanent
Another thing to consider when buying the best fire pit is whether to go for a portable or a permanent model.
Ideally, if you like going camping often, choose a portable firepit. You do not want a permanent one that is hard to move. Portable ones are light weight, have a carry case and even wheels to make their movement easy.
They are also great for renters and for parties as they can be moved around and placed in different areas of a home backyard.
They are mostly small in size and come with a screen to prevent sparks flying away, and even a grill to make your favorite meals when camping.
8. Cost
These backyard fixtures have a wide range of costs. Portable ones costs from $50 while larger and more decorative can costs from $100.
Generally, fire pits are inexpensive especially if simple and made of cast iron and copper metal. Stainless steel firepits tend to be expensive.
Wood-burning ones are also affordable because they are readily available. A tailor-made natural-stone one can also cost more.
Bottom Line
Buying a suitable fire pit can be somewhat tricky. There are numerous varieties in the shops, in diverse shapes and sizes. That's why I've compiled factors you need to consider before purchasing one for your needs.
A fire pit is an excellent way to spice up your home backyard or patio. It also acts as centerpiece during social gathering and is fun to sit around fire, chatting with family and friends.
A suitable one is a fabulous addition to your backyard. It will provide warmth on cool evening.